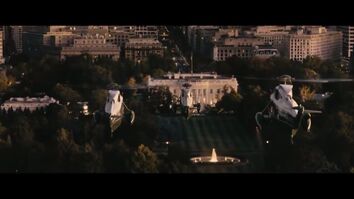 Marine One
is the call sign of any United States Marine Corps aircraft carrying the President of the United States. It usually denotes a helicopter operated by the HMX-1 "Nighthawks" squadron, either the large VH-3D Sea King or the newer, smaller VH-60N "WhiteHawk". A Marine Corps aircraft carrying the Vice President has the call sign
Marine Two
.
Marine One was seen several times in White House Down.
Description
Edit
Marine One is sometimes the preferred alternative to motorcades, which can be expensive and logistically difficult. The controlled environment of a helicopter adds greatly to the safety factor as well. It is also used to transport senior Cabinet staff and foreign dignitaries. The HMX-1 squadron operates a total of 35 helicopters of four different types as of 2009.
More than 800 Marines supervise the operation of the Marine One fleet, which is based in Quantico, Virginia, but is more often seen in action on the South Lawn of the White House or at Joint Base Andrews Naval Air Facility in Maryland. At Andrews, it is sometimes used to connect to Air Force One for longer journeys. Marine One is met on the ground by at least one Marine in full dress uniform (most often two with one acting as an armed guard). According to a story told by Bruce Babbitt, President Clinton, in his final days of office, while flying over and landing in a remote area near the Grand Canyon, found a Marine waiting on the rock ready to salute him. Marine aviators flying Marine One do not wear regular flight suits during flights, but rather the Marine Blue Dress Charlie/Delta uniform.
As a security measure, Marine One always flies in a group with identical helicopters, sometimes as many as five. One helicopter carries the President, while the others serve as decoys. Upon take-off these helicopters begin to shift in formation to obscure the location of the President. This has been referred to as a presidential shell game. Marine One is also equipped with standard military anti-missile countermeasures such as flares to counter heat-seeking missiles and chaff to counter radar-guided missiles, as well as AN/ALQ-144A infrared countermeasures.[19] To add to the security of Marine One, every member of HMX-1 is required to pass a Yankee White background check before touching any of the helicopters used for presidential travel.
Marine One is transported (as is the president's limousine) wherever the president travels, within the U.S. as well as overseas. At a presidential inauguration, the Marines offer a flight to the outgoing president from the Capitol to Andrews Air Force Base.